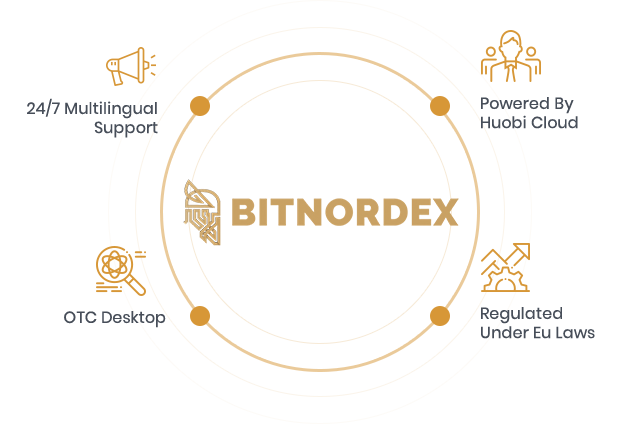 About Bitnordex
Bitnordex CRYPTOCURRENCY EXCHANGE
Bitnordex is a cryptocurrency exchange registered in Estonia, operating out of a regulated environment for individual and institutional traders.
Bitnordex is a Fiat-crypto exchange platform, registered in the EU, operating out of a regulated environment for individual and institutional traders. Company owned intellectual property Bitnordex has the full rights to the entire trading system including all the source code of the exchange. Bitnordex Exchange is Nordic ́s No.1 Regulated Fiat-Crypto Exchange Platform, Offering Free Multilingual 24/7 Support where The Crypto never sleeps, Neither do we... Regulated Under Eu Laws Bitnordex Exchange is Fully Compliant & Regulated under the EU laws, Holding A Fiat-Crypto Exchange License & A Crypto-Wallet Services License
Token Economy
Issuing 200 000 000 Bitnordex Tokens .
15% reserved Angel Investors;
50% Public Offering;
15% Team and Advisors;
10% Bitnordex Ecosystem;
10% Airdrops & Community.
Timeline
Pre sale: Feb 03 - Mar 15 (20-50% Bonus)
Public Sale: Mar 15 - Jun 25

Tokens exchange rate
1BNX = 0.05 EUR
Acceptable currencies
BTC, ETH, USDT, USDC, EUR,
Utility
Bitnordex token can be used to redeem the exchange trading commission fee and receive airdrop from listing tokens.
Number of tokens for sale
100 000 000 BNX
bitnordex Listing
How To Get Your Token Listed On bitnordex
There is a great advantage listing your token with Bitnordex during the ICO as we have specialized packages. Bitnordex token listing has already started!
Security Token Listing
Bitnordex will seek approval under MIFID II regulation for the ability to list security tokens thereby allowing for future STOs to seek a listing on an exchange that would be on par with households names like the Deutsche Börse and the LSE.
Terms
Bitnordex does extensive research and due diligence before listing a token. It is important that whatever token is listed with Bitnordex follows strict guidelines.
Deep Liquidity
Bitnordex will be bringing deep liquidity from Asia to the Western world by sharing liquidity with. The liquidity on the main tokens is unparalleled and will give the exposure your project deserves.
Roadmap
The Timeline
The 2-year Blueprint
Bitnordex incorporated & established
May 2019
Bitnordex Project outline design
June 2019
Bitnordex Software development start
July 2019
Fiat-Crypto Exchange License Acquired
August 2019
Crypto Wallet Services License Acquired
September 2019
Bitnordex Fully Compliant & Regulated
October 2019
Bitnordex Preparatory group formed
January 2020
Bitnordex Core team established
March 2020
Promotional Website developed
July 2020
Exchange Demo Creation Beta
September 2020
Bitnordex Listing on Coinmarketcap
November 2020
Project Minimal feasibility testing
February 2021
Bitnordex to join a venture capital in Sweden
March 2021
Official Local Exchange Launch start
August 2021
Bitnordex will accept Token listing
January 2022
Bitnordex Marketing Campaign start
February 2022
Bitnordex Exchange to apply for local license
June 2022
Bitnordex to become Top Nordic Exchange
June 2022
Faqs
Frequently Asked Questions
Below we've provided a bit of ICO, ICO Token, cryptocurrencies, and few others. If you have any other questions, please get in touch using the contact form below.
Meet the
bitnordex Team
The Bitnordex team has vast experience in the field of IT, Internet, Blockchain, Finance and Entrepreneurship.
Advisors
bitnordex Advisors
We have hand picked our advisors as we only want the best of the best to represent us.
Bitnordex News
Latest News
Any question? Reach out to us and we'll get back to you shortly.